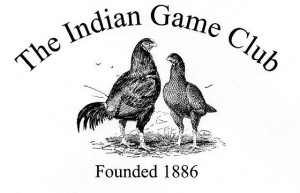 For an £8 annual members fee you will receive up to 3 newsletters, club standards, and the chance to win Club Trophies & Special Rosettes at our club show Wadebridge, Cornwall, held the first Sunday of November, the National Championship held the end of November or the beginning of December and the Federation Championship Show held the end of December. As well as this are the services of your club secretary's, the Membership is payable to The Indian Game Club.
Regards John & Sylv Cook.
The Indian Game Club
Sec/Treasurers John & Sylv Cook
Visitors Cottage
15 Campton Road
Gravenhurst
Bedfordshire MK45 4JB
From UK – Phone: 01462711617
From Ireland or Rest of the World – Phone: 00441462711617
Click on the link below to download an application form:
The Indian Game Club Membership
For anybody using Euro's please don't send a Euro cheques to pay for membership as the club can't change them.
Or pay with PayPal and fill in the form below it goes directly to the Club Treasurer. Using this option you pay £8.50 but no postage or Bank/Postal Order costs: